Finding peace and calmness for many of us can be a challenging task and yet the wellness industry is exploding with products that are geared to help with anxiety.  It can be a little overwhelming to sift through the number of products to seek out what might work best for you.
Let's face it, if we're already feeling overwhelmed, the last thing we want to do is spend hours on the internet seeking out what products might work for us.  So I've compiled the 5 best natural anxiety relief products of 2020 ( well, 4 trending products and 1 trending service) that may help your search a little easier.
So, let us get right into this without further hesitation
  1. Muse Meditating Headband
This headband reads your brain waves in real-time and allows you to control your thoughts by focusing on your breathing.  Its meditation taken to a new level.
This technology uses advanced signal processing to interpret your mental activity and guide you through meditation by using weather sounds.  You can select the type of weather you'd like to hear, wind in the desert, rain in the forest or waves on the beach.
There are several benefits to meditating and it has been medically proven to reduce stress and calm anxiety.  As a frequent meditator myself, I can attest to these benefits.
Once you receive your headband you download the free app (muse), turn the power on your headband and it will automatically sync to your phone through your Bluetooth settings, it's as simple as that.  You can also subscribe to additional meditations monthly or yearly so that you never get bored with the same sessions.
Meditation is the best form of natural relief and sessions can be guided or done individually.
You can read a more in-depth review of the muse headband by going to Muse Headband Review | Meditation taken to a New Level
2. Anxiety Healing Program – Self Help Program
This in-home program will allow you to access affordable support sooner with the cost of the entire program less than what one session with a therapist would be.
The program was developed by reputable therapists, Kate Wirig and Stuart Squires and is intended for teenagers and adults.
This audio program uses Cognitive Behavioural Therapy techniques by providing eight 20 minute downloadable audio sessions that mimic a group coaching session.  The listener feels like they're in the actual group session and will learn techniques to deal with their anxiety and recognize triggers by listening to others with similar experiences.
Additionally, a workbook journal is included so that the listener can document strategies and tools learned to implement into their own lives.
This program allows you to access coaching supports through specialized techniques implemented by specialists working in the mental health field.
3. SleepPhones Headbands
Sleep is so important to manage our anxiety and overall wellness and yet there are far too many of us not getting the proper amount recommended by health professionals.
Maybe you work shift work, or your job entails you to be on-call during the night which often leaves your sleep interrupted and you find it difficult getting back to sleep.  These soft hypoallergenic, comfortable luxury headbands are sure to help with getting back into your REM sleep.
An added bonus is that these headbands are multipurpose.
These headbands are equipped with padded removal speakers that make it easy to meditate, listen to calming music, workout at the gym without having to put in those annoying earbuds.
If you find yourself often waking up during the night and needing some calming or meditation music to get back to sleep, or needing these sounds at any time during your day this headband will allow you do so comfortably and without interruption to others around you.
This headband allows you to take time for yourself, whether it be relaxing, sleeping or escaping those feelings of anxiousness in a natural, stylish, yet comfortable way.
It comes in two stylish options, fleece (ideal for sleeping) or the breeze (recommended for working out or those living in warmer climates) with several colors to choose from.
Other options for this headband include purchasing with a cord or Bluetooth (recommended for the best user experience)
If you'd like more detailed  information on this trending product click here
4. Online Counseling Services
Online therapy services have become the trend in 2020 and continue to evolve and is a viable alternative to anyone who has a tablet, computer or iPhone.
More and more people are turning to the internet to access services and therapy has become no exception.
Online therapy is a convenient way for individuals to access professional supports no matter what their schedule may be or where they are in the world.
There are several online counseling supports available online, I've listed few of the most popular ones below
Betterhelp
7 Cups of Tea (Free Online Services and Paid Professional Supports)
Teen Counseling (Great for Teens)
Pride Counseling (LGBTQ Community)
TalkSpace (Online unlimited messaging and video conferencing) – SPECIAL OFFER, USE CODE: 1004U to get $100 off your first month of service.
You can learn more about TalkSpace and how services work by going to TalkSpace Review – Online Counseling When We Need It.
5. The Nebulizing Essential Oil Defuser
Essential oils for aromatherapy are proven to reduce stress and anxiety and with nebulizing defusers, you're sure to get the best effects from your essential oils.
These defusers require NO Water, NO heat and NO plastic and you receive the full health value of pure essential oil without any dilution from heat or water.
They are extremely powerful and very quiet. They preserve the original therapeutic effects and properties of the pure essential oil without altering, transmuting or changing it in any way.
While there are many benefits to using essential oils to reduce stress and anxiety there are cautions that should be followed in order to use them safely.
Always buy from a reputable source, keep oils away from open flames, candles, matches, cigarettes, and electricity.  Always keep oils away from children and pets.
You can read more about Organic Aromas Nebulizing Essential Oil Defusers by clicking on the picture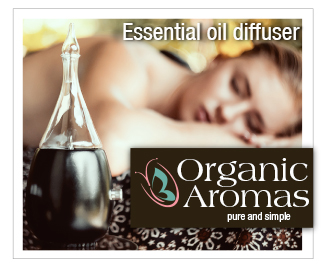 There you have it, if you are suffering from anxiety 2020 is your year to make a change and try one of these trending natural products/services that may be just what you're looking for to help you cope and manage anxiety symptoms.
It can be a little scary to step out of our comfort zone and try new things especially if we're already feeling overwhelmed and anxious, but if we don't push our boundaries beyond what we know or have tried, we'll never really change our course of direction which will put us our path to wellness.
Please leave me a comment below and let me know if you'll be trying one of these trending products or services in 2020.